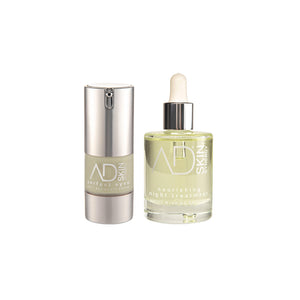 Anti-Ageing Gift Set - 20% OFF
Regular price
$79.00
Sale price
$99.00
Unit price
per
This beautiful Anti-Ageing Gift Set combines our two independently scientifically tested skin care products: 50ml Nourishing Night Treatment Facial Oil and 15ml Perfect Eyes Anti-Ageing Eye Cream. 
Suitable for all skin types.
Natural and organic skincare
No parabens no petrochemicals no artificial perfumes
Independent Scientific tests reveal a significant rise of over 60% in skin hydration after just one application of our award-winning Nourishing Night Treatment, and this hydration boost continued for 24 hours.
| | |
| --- | --- |
| BEFORE | AFTER |
Perfect Eyes anti-ageing eye cream has also been scientifically proven to reduce the appearance of wrinkles by up to a staggering 40% and increase skin hydration by over 70% in just 30 minutes - and this hydration also lasted for 24 hours.
BENEFITS: Award-winning Nourishing Night Treatment Facial Oil has been been independently scientifically tested with the following results:
Over 60% increase in skin hydration in just 30 minutes*
24 hour hydration*
Independent Scientific Tests reveal Perfect Eyes Anti-Ageing Eye Cream:
Reduces the appearance of wrinkles by up to 40%**
Over 70% increase in skin hydration in just 30 minutes*
24 hour moisturisation*
*Independent Scientific Tests
**Applied twice daily for 28 days
---