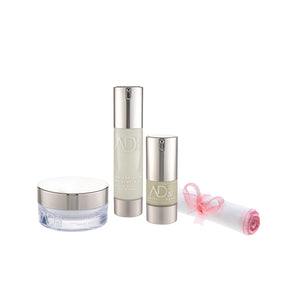 Daily Gift Set - 20% OFF
Regular price
$92.00
Sale price
$115.00
Unit price
per
Our Daily Gift Set contains your daily essential skincare:
15ml Perfect Eyes Anti-ageing Eye Cream
50ml Radiant Skin Moisturiser 
45ml Essential Cleansing Balm + a 100% Organic Muslin Face Cloth
Perfect Eyes Anti-Ageing Eye Cream has been scientifically tested and proven to reduce the appearance of wrinkles by up to an impressive 40% and increase skin hydration by over 70% in just 30 minutes - lasting for 24 hours.
Radiant Skin Moisturiser has an abundance of natural and organic ingredients including organic rosehip, organic shea butter, organic aloe vera, organic calendula, organic beeswax, carageenan (seaweed) and vitamin E. Includes 5ml facial oil, for extra radiance.
Essential Cleansing Balm luxuriously melts away make-up and daily pollution, leaving your skin soft, supple and clean. While the 100% organic muslin face cloth gently exfoliates, tones and cleanses your skin.
Suitable for all skin types.
Natural and organic skincare
No parabens no petrochemicals no artificial perfumes
BENEFITS:
Independent Scientific Tests reveal
Perfect Eyes Anti-Ageing Eye Cream
:
Reduces the appearance of wrinkles by up to 40%**
Over 70% increase in skin hydration in just 30 minutes*
24 hour moisturisation*
*Independent Scientific Tests
**Applied twice daily for 28 days
Radiant Skin Moisturiser
is infused with essential oils, leaving your skin feeling silky soft and looking radiant:
Helps reduce the appearance of fine lines
Leaves skin soft and hydrated
Gives silky smooth radiance
Essential Cleansing Balm
melts away make-up and daily debris, leaving your skin deliciously clean and refreshed:
Exfoliates with a 100% organic muslin face cloth
Gently cleanses and melts away make-up
Leaves skin clean, soft and refreshed
---